Welcome to Hafer's Guns!
Hafer's Guns is your one stop gun shop for all your firearm needs in the tri-state area, now with 2 locations to serve you! We buy, sell, trade, consign, repair & customize all firearms including NFA/CLASS III.
Since 2000 Hafer's Guns has the finest custom guns and repairs with the utmost attention to detail and precision through their training, knowledge, and experience.  We prove our commitment to our customers each and every day.
Whether its your first firearm purchase, a custom gun of a lifetime, NFA/Class III, or advancing your firearms education, Team Hafer can provide you with what you need.  We are trained, knowledgeable and experienced which sets us above the rest!
Stop in our 2500 square foot show room or shop online! Our family is here for you!
Becky S: New to Firearms!!
Before coming to Hafer's I have never even considered owning or even touching a firearm. A change of circumstance has made me think other wise. I reached out to Hafer's for information on what steps I needed to take in order to purchase the correct firearm for me. Not only did I choose the perfect firearm they informed me and trained me the proper way. They were very patient and detailed when explaining how to properly use my firearm. The staff was very well educated and helpful. Thank you to all of the wonderful staff at Hafer's. I greatly appreciate everything you guys have done for me!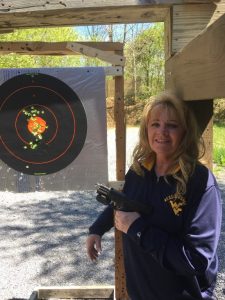 Bull Elk at 226 Yards
We've been hunting hard. It's the 4th day out of a 5 day hunt. We woke up to 3 inches of snow with 3 more to come. We saw well over a hundred elk that morning but couldn't find a good bull. We happened to pick up a track while in the ATV. We decided to follow it. After a mile of slow walking we came up on him and another small bull and 2 cows. It was to thick to get a shot so we circled left and they all came out at 226 yards. Wind was blowing 20mph or more and it was snowing hard. It was a one and done shot thinks to Tim Hafer for building me a rifle that is crazy accurate and the reliability is never a question. The Swarovski scope even in the snow and fog made me able to make a shot and he dropped and it was all history after that.
-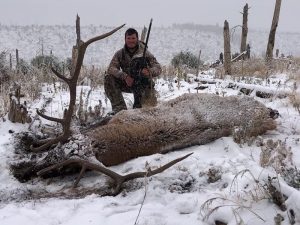 Another Happy Customer
When it comes to accuracy and reliable Tim Hafer knows what to do! Couldn't be happier with the outcome of my 300 RUM and multiple other guns he has done for me. Nothing like knowing exactly where every shot is gonna go and Tim can make that happen. He has made this hunt and many more a success. His shop and staff are amazing. I have always had great service there and I recommend everyone to check it out!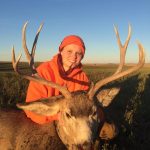 Proud Father and Happy Daughter
We just returned from another Montana Deer hunt. Tess killed her second Mule deer this year. A 300 yard shot taking the top of the heart off. An Impressive shot. Tess's shooting ability and the custom rifle are an excellent match.  Tim, take pride in your work and rifle set up as this is a winner. I now plan to work with Tess in competition shooting. Your satisfied customer and proud Dad.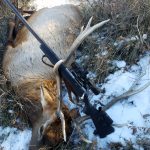 Bull Elk 350 Yards with Hafer's Custom
I started developing loads and ended up with 2 bullets that worked well.  The 160gr Nosler Partition and the 162gr Hornady ELD-X. Time was short, so I ended up going this the ELD-X.  I was able to get the rifle with the suppressor to shoot sub ½" groups.  Basically a one hole group.  That was what I was looking for.

So I went to Colorado and on the 3rd day we spotted a bull elk in the oak brush.  He was about 350 yards from my previous ranging of the area.  Shot was from a prone position and was easy knowing I had great confidence in my rifle.  Being that I was using a suppressor, you could really hear the impact of the bullet.  The shot went through his left shoulder and both lungs.  He dropped and rolled 15 yards down the hill.

Having a rifle that shoots with great accuracy gave me the confidence I was looking for.  It all starts with good products and someone that knows how to put together a rifle.  Tim did it with this one and can do it with yours.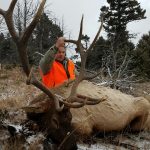 Tom, 780 yard Elk
Thanks to Tim and the crew at Hafer's Gunsmithing for building my long range hunting rifle. I was able to kill this elk with one shot at 780 years. For all your guns, ammo and gunsmithing needs talk the crew at Hafer's Gunsmithing.


AR Owner
Thank you Tim, for the custom upper and the Geissele trigger job. I took it to the range and Wow! If anyone is looking for a custom gunsmith Tim is the man! Again, thank you.