Customer Feedback!
Mary L: Glock 43!! (7/22/19)
Hafer's gun shop was an Awesome experience to work when getting my gun permit and the purchase of my Glock 43!!!
Michael H: Bought My First Handgun (6/26/19)
Bought my first handgun there several weeks ago, and I'm only now appreciating what a huge favor the staff did for me – pointing me toward just the right gun to meet my expectations. Added benefit was that it was on sale for $200 off and they saved me a significant amount of dough. I definitely plan to purchase any future weapons at this fine location.
Lynn: Your First Stop for All Your Second Amendment Needs (6/17/19)
As I've often said, "Hafer's Gunsmithing should be your first stop for all your Second Amendment needs". His inventory will satisfy all your hunting, shooting and personal defense needs. And, he and his diverse staff have the experience, knowledge and customer satisfaction attitude to ensure your visit will be a true "5 Star Experience".
Justin C: Will be a Repeat Customer (6/16/19)
Excellent staff, services, & prices. Will be a repeat customer.
Ryan H: A Really Positive Experience (6/10/19)
Very helpful and knowledgeable staff, made our firearm purchase a really positive experience!
Amber H: Excellent Prices, Customer Service & Stock (5/25/19)
Excellent prices, customer service and stock. Everything you could need for hunting, protection or whatever suites you. Highly recommended.
Jeff W: Huge Gun Inventory (5/25/19)
Great staff with a huge gun inventory.
Shawn W: Part of the Family (5/25/19)
Great people. They go out of their way to help you with ALL of your questions and make sure you are part of the family by the time you leave!
Renee B: They Make Buying a Firearm Easy! (5/24/19)
What an AMAZING experience! They make buying a firearm easy!
Justin W: Gunsmith On Site (5/8/19)
Best, most helpful firearm shop anywhere near Hagerstown!! Incredibly helpful staff with a gunsmith on site.
Jason S: Best Gun Shop I've Ever Been Exposed To! (4/29/19)
Stopped in the gun shop for some ammo just to shoot in the new year and already got plans to go back. Not only did I get ammo but the team is extremely nice and helpful, very knowledgable and many capabilities. Best gun shop I've ever been exposed to, going back soon for sure, a 5 star by far!!
Chad L: Informative & Helpful!! (4/26/19)
Very informative and helpful in many ways!!! Recommend this gun shop to everyone that has interest in values and questions about any weapons for personal and professional protection!!!
Patricia N: When I Need to Buy a Gift (4/24/19)
When I need to buy my husband a gift I always go to Hafer's. All the staff are friendly and knowledgeable about all their stock. They don't harass you by upselling items either. They tell you the facts with NO BS. This is the ONLY place I will buy my guns.
Becky S: Very Patient and Detailed (4/22/19)
Before coming to Hafer's I have never even considered owning or even touching a firearm. A change of circumstance has made me think other wise. I reached out to Hafer's for information on what steps I needed to take in order to purchase the correct firearm for me. Not only did I choose the perfect firearm They informed me and trained me the proper way. They were very patient and detailed when explaining how to properly use my firearm. The staff was very well educated and helpful. Thank you to all of the wonderful staff at Hafer's. I greatly appreciate everything you guys have done for me!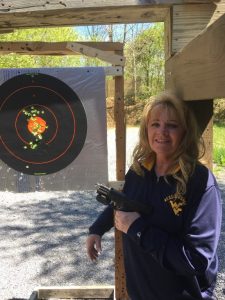 Sandy B: Ample Stock and Collective Expertise (4/19/19)
I recently purchased a firearm at Hafer's. I'm new to the area and was nervous about such an important transaction, as I take firearms very seriously. I originally came in to browse for my Marine son's wedding gift. I chose one item and was not 100% it was what I wanted for him. The friendly, knowledgeable staff had me put it on hold for a few days while I confirmed whether or not it was the right choice. As it happened, my son had hoped for a shotgun and not a rifle, so the staff once again went through their vast inventory, explained how they also had online purchasing options and they reviewed the laws for MD and PA (I'm a new PA resident) and how the purchase and transporting regulations related to me in gifting my purchase. Then I was advised on the optimum ammo to complement my purchase.
I will not only go back again for my own needs, but I have encouraged numerous others to avail themselves of the ample stock and collective expertise of this shop and their staff. I already have plans to have the shot gun customized and the work I was shown was unparalleled. I highly recommend Hafer's.
Emily M: The Hands On Experience Was Awesome (4/19/19)
Hafer's was recommended to me by a friend and I decided to go visit Tim. I was pretty well amazed by the selections he had in shop.
Hafer's also offers a wide range of classes. I completed the ladies only handgun course and learned a TON from the class. The hands on experience was awesome and the instructor Tim G was great.
I have bought multiple firearms from Hafer's and have had pleasant experiences every time. I stop at the shop on the way to the local Izaak Walton league for targets or whatever I may need.
The staff at Hafer's go above and beyond to help. They are all very knowledgeable and will help you select a firearm that will fit you best. They are definitely a great bunch of people to do business with, and I will continue to patronize this local business!
Jess L: The Only Place I would Ever Buy a Gun! (4/19/19)
The only place I would ever buy a gun from! The staff is very knowledgeable and listens to you! I bought my first gun from them and it was easy and painless. Even have a custom rifle from them and it was everything I hoped for and more! Go check them out for any of your firearm, ammo, accessories, or reloading needs! Tim, Becca, Andy, Bob, TJ, Evan, Sierra, Kaitlyn, and Austin will not disappoint!
Jerry B: They Provide Expert Training Classes (4/18/19)
Great gun shop! They carry a large inventory and the staff is super friendly and knowledgeable. I have purchased several firearms from them and I will continue to do so. They also provide expert training classes for every need. Look them up. You'll be happy that you did.
Steven B: Welcomed My Teenage Daughter with Open Arms! (3/24/19)
Staff has always been more than helpful and knowledgeable. They have welcomed my teenage daughter with open arms and have helped turn a very shy girl (when it came to the shooting sports) into a accomplished hunter (Thanks Bob) and Competion shooter. Special thanks to Tim, Andy, Rebecca and Bob. You won't be disappointed!
Pat H: Just About Anything You Can Want From a Gun Shop  (3/14/19)
This is just a fun place to visit. I've been going here for years. Just about anything you can want from a gun shop.
William D: Always a Great Experience!  (3/7/19)
Always a great experience! The "team" at Hafer's is knowledgeable, professional and able to attend to all your "Gunsmithing" needs! And if you haven't checked out their inventory lately, you've got to make the trip. You'll be glad you did!
Craig: When You Walk In…WOW!  (1/21/19)
Every time I go into Hafers I am treated like a friend. That says a lot to me. I hate going into a place, and we have all had this experience, where getting someone to talk to you is like pulling teeth and when they do answer its like you are bothering them, especially your first time there. I can remember my first visit actually where without even trying I was greeted by every staff member! That does not happen in many places at all.
I am a C&R 03 FFL and I cant wait to visit and see what 50 year plus firearms they routinely aquire to provide to customers like me that have small family collections of firearms and gear used in the great and and small struggles around the world. It is a way of providing a living, working set of firearms carried into battle by courageous men and women that changed history. We provide these firearms for the public and service members to fire at range days and they always come away with a respect for the people that carried these into battle!
What sold me is the first time I walked in I was treated like I had been going there for years.
They are very knowledgeable and offer an expert gunsmithing service.
I am a retired LEO (SpcOps, Major Crimes/Fugitive Unit, SERT team, police instructor, gear/firearm evaluator, detective) NRA Instructor and RSO and still shoot and compete as often as I can and I really enjoy going here. Seriously, try them and you will see. I rarely give a glowing report on a place but I really do enjoy going to Hafer's. Its the way things used to be. I am going there again very soon to actually look at finding a rifle for my son, a US Marine Sgt, as a gift for returning from another long deployment and can come home for only a short time.
If they do not have it, Hafers can find or build that firearm that you keep for a lifetime and pass down the family line.
Again, this sounds like an ad instead of a review BUT I would not give a great review if the selection and service were not absolutely top notch. When I retired from my police career, I seriously happened on Hafers pretty much accidentally. I saw their ad along with the big chain stores and such and one day was driving by, passed it, and just HAD to turn around and stop in. The exterior is nice and unassuming but when you walk in WOW! Its not like other places where nearly everything is behind the counter or locked up, as I said before, this place is welcoming and you walk through rows of firearms, ammo and gear. Yes, there are more "behind the counter" BUT you are always envited to step back there to look at MORE rows of rifles and shotguns arranged for easy viewing and taking them down to check them out. The display cases are FULL of new and preowned handguns just waiting for you. It is a real sportsmans and shooters place.
I am now looking for a another small ccw pistol AND some older C&R rifles which they always have a great variety of as well as the amazing modern stuff. As I said about ammo prices there also are about the best around, not only for a full service shop but I find ammo cheaper than W…..t!😊 Its nice to have a small collection but you need to feed them too!
Anyway, stop in or give them a call!
Craig
Scott M: People Are Wonderful and Very Helpful (1/9/19)
Great place with awesome selection. The people are wonderful and very helpful. They helped me a lot when I was getting set up to do reloading.
Dave M: We Are Customers Forever (1/10/19)
Outstanding knowledge and service each and every time. If your thinking about purchasing anything firearm related you owe it to yourself to stop in and talk with the staff. Be prepared because your about to become one of the family.. We are customers forever.. Irene and Dave
Rob H: Family Owned and Run (1/4/19)
Great place. Family owned and run. They were fantastic helping my wife pick out a pistol.
Mike B: Fair Trade (12/10/18)
Got a fair trade on for my Sig-Saur 380 for a Sig-Saur 320- 9, which included the larger magazines, as a retired Law Enforcement Officer. Later I brought a 22 cal rifle for groundhogs, at a very reasonable price. I will continue to buy from Hafer's in the future.
Charlotte G:  Took The Time to Answer Questions (12/4/18)
Wonderful experience!! Everyone was knowledgeable, professional, and took the time to answer questions and explain in detail.
Patricia C:  Training is Awesome at All Levels (12/4/18)
Great experience with the team at Hafer's. They are knowledgeable about firearms and have very competitive pricing. Training is awesome for all levels. Highly recommend this place!
Scott W:  Tim's Team Will Go Above and Beyond (11/30/18)
The wife and I have been customers of Hafer's for years! Great selection and Tim's team will go above and beyond for their customers.
Wendy L: You Will Not Leave Disappointed (11/19/18)
This shop is awesome and you will not leave disappointed.
Jeffrey S: They Have Earned My Respect (11/18/18)
Every time I have dealt with with them, I have always been treated great and they have earned my respect and I will always be a customer.
Charles S: Great Gunsmith (11/16/18)
Great Gunsmith, Exceptional staff that helps you purchase your guns!!!
Joseph D: She Really Knows Her Firearms (11/13/18)
I recently purchased my first hand gun and the female was so professional and easy to deal with that I have also purchased my second hand gun, she really knows her fire arms and matched me perfectly to my needs.
Den A: Sound Advice (10/29/18)
Hafer's has a friendly, knowledgeable and helpful staff. The store is well stocked and has a wide selection of firearms and related products. The staff has always provided me with sound advice along with good explanations and opinions and options on products that I may be interested in purchasing.
Stephen S: I Will Always Get My Guns From Hafer's (10/19/18)
I got 2 G35's a gen3 and a gen4 I love both of them. The people are very knowledgeable and really friendly. I will always get my guns from Hafer's.
John L: Simply a Great Experience (9/20/18)
Highly knowledgeable, extremely professional along with a great selection and fair and honest pricing. Simply a great experience! Whether you are highly skilled and experienced or a beginner you can't go wrong.
Carole M: Fair and Honest Pricing (9/18/18)
I have purchased several guns from Hafer,s & I couldn't be happier! Fair & honest pricing is just one reason I deal with them. The staff is knowledgeable, friendly & goes above and beyond to see that their customers are happy. I would highly recommend!
Gerrie P: Friendly and Knowledgeable (Posted 9/9/18)
Great, friendly service with knowledgeable staff would recommend anyone to them.
Daniel S: I drive 20 miles passing a dozen gun shops on the way to shop there (Posted 9/4/18)
Great place. Found it while driving through one day. Now I drive 20 miles passing a dozen gun shops on the way to shop there. They are straight forward. They don't push opinions like some places when you want something different then most people. They just sell good products. I come to spend money on what I want to buy and not someones unrequested opinion. Hafer's rocks. They ask you one time if they can help you find something and get it for you or order it.  Best experience shopping at a gun store. I requested an uncommon item.  They gave me a decent price but said it would have to be located. I got a call back 8 days later. They found it after two other shops said the item is rare and I would have to just check back. This is a good place to get what you need at a decent price.
Thomas A: Absolutely Great Experience (Posted 8/15/18)
"Extremely knowledgeable individuals..
Absolutely great experience all around. The staff at Hafer's went above and beyond to go out of their way to help me, and put me in the right direction to obtain everything properly. Thanks Hafer's !"
Tom, 780 yard Elk
Thanks to Tim and the crew at Hafer's Gunsmithing for building my long range hunting rifle. I was able to kill this elk with one shot at 780 years. For all your guns, ammo and gunsmithing needs talk the crew at Hafer's Gunsmithing.
Thanks again!!
Tom
Proud Father and Happy Daughter
We just returned from another Montana Deer hunt. Tess killed her second Mule deer this year. A 300 yard shot taking the top of the heart off. An Impressive shot. Tess's shooting ability and the custom rifle are an excellent match.
It gets better. Our guide was impressed with Tess's calm performance under pressure. He wanted to see her shoot some more. He placed a 12 ounce water bottle at 330 yards in the open range. Tess shot and burst the bottle. When returning to camp our Guide organized a shooting competition with the guides and the hunters. This competition involved 3 guides shooting their custom coyote rigs with night force scopes etc and the hunters with custom 300 ultra mags etc.
Poker playing cards were put at 300 yards, shooting off the bench or prone. Tess beat all the men, shooting 2 aces and a king.  They all admired here calm demeanor. She was gracious with the win.
Tim, take pride in your work and rifle set up as this is a winner. I now plan to work with Tess in competition shooting.
Your satisfied customer and proud Dad
Wayne B.